Quickbooks is a popular and easy to use accounting system. Thousands of companies have started their businesses with Quickbooks. It can sit on a PC or a server, and can be accessed by one employee or several. However, there comes a time in many company's history where Quickbooks is not enough for future growth or complex requirements. When companies get to this stage, many consider a cloud Enterprise Resource Planning (ERP) solution to address the functional needs and to keep IT costs down.
NetSuite has emerged over the past 10 years as the natural upgrade from Quickbooks. Today, we are going to highlight some advantages of NetSuite over Quickbooks. One advantage of Netsuite over Quickbooks is an integrated eCommerce system. By having a one system for both billing, inventory management and content management, the process of creating and maintaining a website is simplified. NetSuite also provides the Ecommerce manager with key dashboard metrics including things like cart abandonment, unique visitors, top performing products.
For the inventory and procurement manager, NetSuite offers functionality that is not available in Quickbooks. For example, you can create purchase requisitions and then send then for approvals and then turn them into POs. You can set up purchase variance tracking. For example, when you are using a three way match, you can flag discrepancies between the PO, the AP invoice and the receipt. You can do transfers between multiple warehouses. Once the transfer is done, transactions can be automatically created to adjust inventory in both locations. You can have matrix items to track multiple inventory characteristics like size, style color. You can also have serial and lot visibility for complex tracking of items.
For the warehouse manager, you can see that NetSuite has a dashboard that can be exception and reminder driven.
The manager can see his 'late' orders, and can also see a reminder of how many orders to receive and pick, pack and ship. There are also excellent tools for cycle counting and physical inventory. In addition, NetSuite can have RF and stationary bar code scanning to perform intelligent picking. Quickbooks has very limited functionality in warehouse management and has limited dashboards and business intelligence.
For the production manager, you can track your availability and requirements for finished goods and component parts. You can also track the build variances. IE, you can set a price for what you think the build will cost, and then you can track what is actually cost to build it. Over time, you can track variances and see problem assemblies. You have powerful vendor performance tracking and quality control. Quickbooks does not have much functionality in manufacturing.
In addition, Quickbooks does not have integrated project management. Many medium businesses may have a project element to their business, where they need to track time and expenses to projects that may be separate from say work orders. NetSuite, as you can see has integrated projects where you can not only track resources assigned to a project, but to bill (invoice) against progress on the project.
Another advantage of NetSuite over Quickbooks is the built in Customer Relationship Management (CRM). As you can see in this inside sales role, the sales rep can track his open opportunities and track his open activities for the day like phone calls. He can also track the key performance indicators like new leads for the month. With Quickbooks, a CRM system like Salesforce.com is an application that would need to be purchased and integrated.
Quickbooks has little in the way of marketing automation. If you have a built in CRM where customers, items and prospects are in the same database as your accounting system, then you can easily communicate and sell to these entities in groups. If you are doing campaigns like Pay per click and trade shows, you may want to track how many leads you generate from these efforts. Most importantly, you want to see how many sales you make. Again, a big advantage of NetSuite over Quickbooks, the later of which does not have any built in CRM.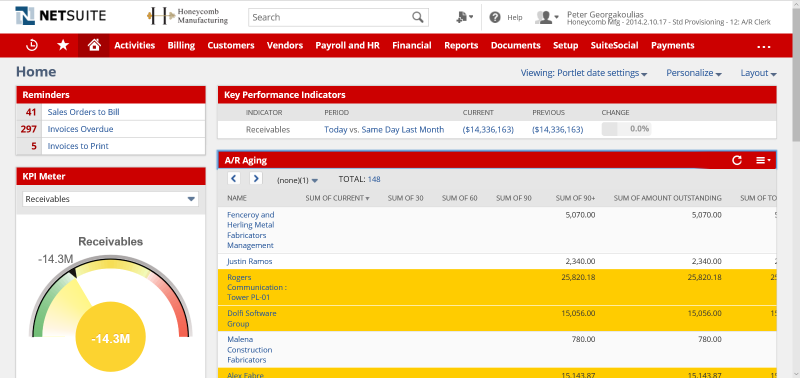 We have only scratched the surface of the advantages of an integrated cloud based Enterprise Resource Planning (ERP) system over Quickbooks, but the discussion today highlights some food for thought as you plan your eventual upgrade from Quickbooks.
Jeff Dixon
President and Co-Founder
With over 20 years of experience in the Information Technology sector including positions in Systems Engineering and Sales at IBM, Jeff co-founded DKM in 1991. Under his leadership, DKM has increased its presence in software representation and consulting in the Western U.S. Jeff holds a BA in Economics from UCLA and an MBA in Marketing and Entrepreneurship from the University of Southern California.